Pre-registration and admission
Pre-registration for academic year 2023-24
The pre-registration period for the academic year 2023-2024 is open between March 1st and June 30th, 2023. Candidates are welcomed to send expressions of interest to the APhil administrator at master.aphil@ub.edu
Information
To be admitted to the programme students should have a first degree in philosophy.
Nonetheless, the master programme is also open to graduates in other areas such as, for example, humanities, journalism, linguistics, philology, mathematics, physics, economics or psychology. The entry requirements for these students are individually different and will typically involve the requirement to complete background courses before embarking on the APhil master.
For questions on academic matters, administrative issues, and other questions, students interested in applying for the APhil master programme can contact the APhil Master administrator at master.aphil@ub.edu or visit the University's site.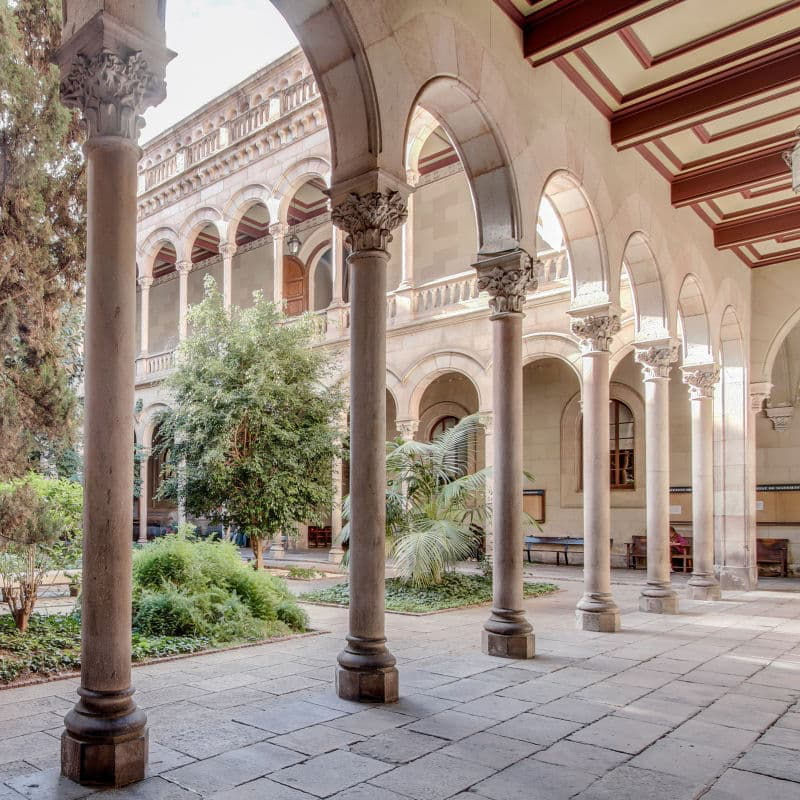 Access requirements
A degree in philosophy.

Those who have a degree, but not in philosophy, may be admitted with the requirement of completing background courses during the 1st year:

English language skills equivalent to at least B2.2 in the common European Framework of Reference. Together with the on-line forms, students must also submit requirement documents (see below).
Required documents
(a) A transcript or list of courses completed for their undergraduate degree (or undergraduate and graduate degrees), with grades earned (specifying the maximum possible grade in each case), in either Catalan, Spanish or English. (NB: for an eventual registration, an official degree certificate will be required, in some circumstances with official translation.)
(b) A general CV in Catalan, Spanish or English
(c) A letter of interest, which should explain why the candidate wishes to join the Master in Analytic Philosophy and indicate the candidate's level of knowledge of analytic philosophy. It should express the candidate's commitment to conduct a significant piece of research, expressed in a statement indicating the applicant's interests and how these interests are related to the course content. It should also specify the itinerary for which the candidate wishes to apply (theoretical or practical).
(d) Two letters of reference, for candidates with degrees from universities not participating in the programme.
(e) A sample of the candidate's work (between 2000 and 4000 words in length). (Students who don't have a degree in philosophy should contact the coordinator about this requirement)
(f) Applicants who are not native speakers of English and whose undergraduate degree was not taught in English must submit evidence for their English language skills. This evidence can come in various forms, but should reliably indicate a minimum level of proficiency approximately equivalent to B2.2 (upper end of B2 in the Common European Frame of Reference).
We will, for example, accept the following test results or certificates as evidence:
IELTS: 6.5 (or at least no component below 6.0)
TOEFL: 550 (PBT), 99 (iBT)
British Council First Certificate
University of Cambridge First Certificate in English
The required documents must be uploaded within the established period using the online application.
Alternatively, they could also be sent by email to master.aphil@ub.edu.
Please note that this is for admissions purposes only. If you are admitted and take up your place, you will still need to present original documents to the faculty office in order to enroll in the course during the registration period.
When making the application for admission to the master, the applicant is required to pay 30,21 Euros. The 30,21 Euro fee charged for applications for admission ("pre-inscripción") will no lo longer be counted towards the registration fees. This change is a consequence of new regulations by the Catalan Government (Generalitat de Catalunya).
When filling in the online application at the above address, after filling in your personal details, you will be asked whether you want to make the payment. If you accept, you will have the option of paying straight away with a credit or debit card. Your application can only be accepted once you have sent us the relevant documents and paid the registration fee.
Criteria of selection
Should the number of qualified candidates exceed the number of available places, the academic board will make a selection based on the following weighted criteria:
(a) Overall mark in the access degree (weighted at 50%);
(b) Relevant activities or merits (as shown in the CV), such as: further degrees, participation in conferences or similar events, grants and awards, etc (weighted at 20%)
(c) Suitability of the candidate's background and motivations, as indicated in the letter of motivation, given the aims and contents of the master programme (weighted at 30%).
If necessary, candidates may be interviewed in person.
Communication of outcome
A committee of representatives of the four universities is responsible for admission to the programme. Decisions on admissions are usually communicated to candidates within two weeks of their documents being received and the deposit being paid.
Further information
For further information about enrolment in the master, please visit the Faculty of Philosophy's website.